Gloreto Guest House
Gloreto Guest House is a place where you will feel welcome, comfortable, and very much at ease as you get away from the pressures of everyday life. It is a place to relax, let go, and recharge your spirit. It is quietly nestled at Ilang-Ilang St. Ochoa Ave., Butuan City.
Gloreto Guest House offers affordable rates, without compromising the quality of service, comfort and cleanliness. If you are looking for value of money, Gloreto Guest House is tailored fit to meet your needs with a homey atmosphere.
The house features air-conditioning system, cable television, private toilet with hot and cold shower, refrigerator, mini bar, electric kettle, dining utensils, and dining table.
Free WiFi connection is available at the lobby.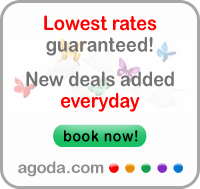 Book Gloreto Guest House now!
For the perfect start of every day, sumptuous Filipino breakfast is served from 6:30 – 10:00 a.m. Gloreto Guest House is just the right place to stay in Butuan City.
Visit and enjoy the site
Gloreto Guest House
, belonging to category
Hotels / Lodging
The keywords associated with the site are :
accommodation
,
Boardinghouse
,
Wifi
,
Guesthouse
,
hotel
Company information: Gloreto Guest House
Ilang-ilang St. Langihan Road
Related sites Gloreto Guest House